#1. Broken Social Scene - World Sick (MP3)
(Arts & Crafts) (from Forgiveness Rock Record, due May 4, 2010)
Post-rock/Indie Pop/Experimental
I've always been quite a fan of Canadian music, and in particular the Toronto based Arts & Crafts label. With its own distinctive sound, its churned out some of my favourite artists ever - The Most Serene Republic, Stars and Phoenix are just some of the names on the roster since its 2002 launch. Broken Social Scene founded it, and although my collection doesn't extend far beyond 2001's Feel Good Lost and 2003's You Forgot It In People, the new track is fantastic, even by Kevin Drew and Brendan Canning's disproportionately high standards. As with much of Broken Social Scene's music, World Sick takes its time to make its mark, and following the timed emergence of a hazy (and distinctively 1901-esque?) vocal, a burst of energy meets the loosely held structures of the introduction to form a euphoric chorus intertwined with cascading guitar lines.
#2. The Morning Benders - Excuses/Promises (MP3)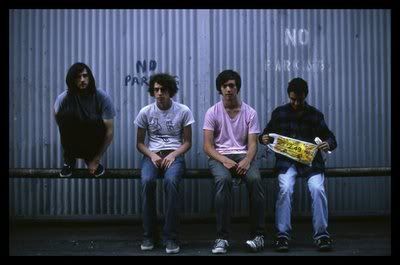 (Rough Trade Records) (from Big Echo, due March 9, 2010)
Indie Pop/Acoustic/Folk
The Morning Bender's latest tracks are respectively the second and third of this post that you've probably already heard. But my conscience would be eternally guilty if i was to leave this mention off altogether. Better late than never as they say. The new album is the follow up to 2008's critically acclaimed Talking Through Tin Cans and follows a move from +1 Records to Rough Trade. It was recorded in San Francisco and mixed in Brooklyn in just 11 days by Chris Chu and Chris Taylor (Grizzly Bear). Excuses is a grand folk track with (big) echoes of Beirut (sorry), but Promises is far more Grizzly Bear, with a quirky folk-rock groove. Pick them up below, and a brilliant live acoustic version of Crosseyed, from Talking Through Tin Cans.





#3. Treetop Flyers - To Bury The Past EP
(Rough Trade Records) (from September 28, 2009's To Bury The Past EP)
Folk Roots/Country/Soul
Treetop Flyers are obviously the least known of the three artists in this post. They play roots/folk music perfect for a lazy Sunday. Not the most technical description i know, but you need to see for yourself. They formed in West London in 2008 and put out their Rough Trade Records release last year. They are also currently preparing to head out on tour to Austin, Texas, following a couple of intermittent UK dates in the near future. They've picked up glowing mentions in the UK from NME, Radio 1 and Artrocker magazine. Even if nothing comes of it, they are well worth a listen; their debut EP is out now on Amazon MP3 for just $4.45.
Buy The To Bury The Past
EP on Amazon.com MP3 here.