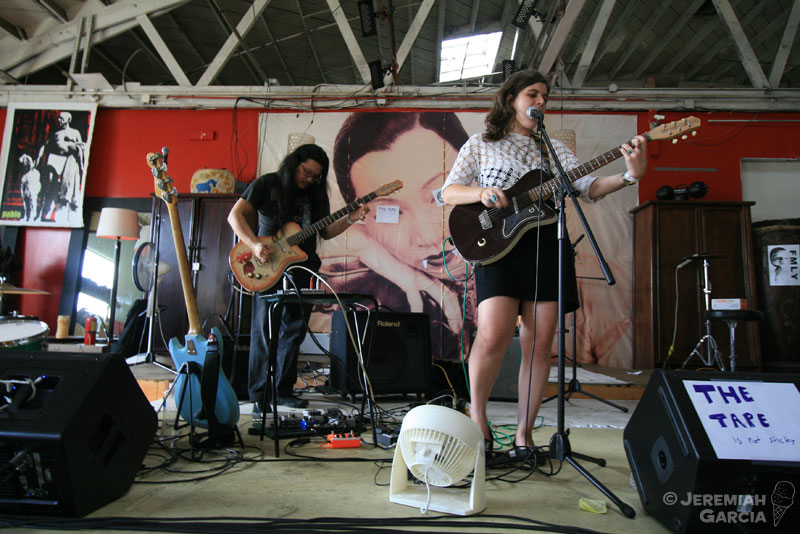 Blog-favourite Best Coast really knows how to build hype - she dropped three new tracks last week on the Something In The Way EP (pick up two of them below) before going on to announce last week that her new single, featuring new tracks 'Far Away' and 'Everyone's Gone' will drop May 3 via Eskuche Headphones. She will also play Camden Crawl and Great Escape Festival 2010 as well as more than 25 other dates across Europe in May, on what is shaping up to be a potential breakthrough tour for the lo-fi pop duo. As if all this wasn't enough, the video for "When I'm With You" (featuring Ronald Mcdonald) has also premiered on MTVU - and you can watch it below. All these tasters, and still no album confirmed - just how much more can she play with us?
Two Door Cinema Club's
US tour with Phoenix begins this Saturday, and as if to mark the celebration ensuing from the undeniable success of last month's
Tourist History
, Kitsune has dropped us a lovely remix of
Something Good Can Work
courtesy of The Twelves. I've also included song What You Know, because as far as what I know goes - this song hasn't left my head for days. As much as I've tried to dismiss this band as 'NME friendly indie pop', I just know that when Reading Festival comes around I'm going to welcome the opportunity to see them play with open arms. Their debut album might just be my next purchase - and if you want to make it yours, look no further -
Tourist History
on Amazon.com
In a new cover that couldn't more opposite to her last, Lissie Maurus (stage name Lissie) moves from
Lady Gaga
to Metallica for
her latest cover
- with an acoustic rendition of 'Nothing Else Matters'. On what Myspace are calling a 'Myspace Exclusive', even though she played it at SXSW and its all over Youtube, Lissie brings Metallica's anger down to acceptable levels.
In terms of new albums - there's a full album stream available of The Hold Steady's Heaven Is Whenever (due May 4, 2010 via Vagrant/Rough Trade) and LCD Soundsystem's This Is Happening (due May 17, 2010 via Parlophone). Crystal Castles self-titled album number two, originally slated for a June release, has been pushed forwards following a leak to tomorrow (4/23). The National's new album has also leaked, and I can proudly say I haven't indulged, and don't intend to - despite this being the release I am most excited about from this year to date. Like good honest citizens, you can pre-order High Violet
from Amazon.com on this link.
This Is Happening
on Amazon.com
Heaven Is Whenever
on Amazon.com
Looking to the week ahead, Monday sees the release of Performance's new single The Living, which you can listen to on this handy Soundcloud link. I feel a comparison to Cold Cave is appropriate - the euphoric electro lead line certainly sounds like something the New York duo would come out with, but this time mixed with Manchester vocals akin to other bands of the city such as The Whip, who incidentally were produced by band member Joe Cross. Another member co-wrote the upcoming Hurts album (which I've already featured) - and formed an 80s inspired side project called Kiss In Cities. The whole overdriven pop effect of this band is huge and well worth a listen, so please do. As I mentioned earlier, 5-tracks are available via Soundcloud.