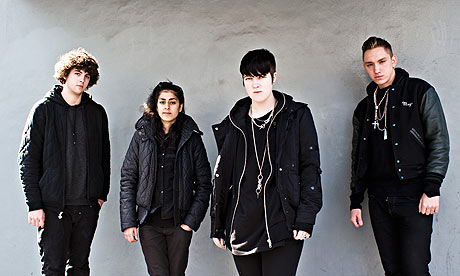 The XX
(
who i originally introduced back in June
) are a group of four 20 year olds who from humble beginnings have quickly become one of the most hyped bands on the planet. They hail from
South West London
, and met at the
Elliot School
- joining 3 members of
Hot Chip
,
Burial
and
Four Tet
as famous musical alumni. Their quiet confidence and dark, dreamy pop sound has landed them slots at Reading & Leeds festivals, as well as support slots on
Florence & The Machine
's fall tour. They've toured with
The Big Pink
and
Micachu
and have a tour of their own planned for November.
Their sound is downbeat, with dark and bassy post-punk guitar lines shadowing softly spoken lyrics. With a touch more intensity,
The XX'
s songs could have been written for
Aaliyah
-

Romy Madley Crofts
voice is 100% good enough, and they make no secret of a huge pop, soul and RnB influence on their music. The mood and execution, and the band's style is where they depart.
The XX
were certainly one of the most, if not the most, downbeat acts at
Reading
. They delivered their songs with barely a word in between, with very little movement other than looks of reserved satisfaction. The lack of act they gave was quite clearly not due to any kind of nervousness - that's just the kind of people they appear. It would have seemed wrong for
The XX
to be, say, jumping around the stage like most of the acts at Reading. Particularly in this case, less was more.
No matter how famous
the XX
get, you can just tell from seeing them live that its not going to affect them, they truly let the music do the talking - throughout the set they only spoke to reveal 'free t-shirts at the front', and that
Teardrops
'is a cover'. Furthermore, every delivery was spot on - they recreated their material perfectly, showing no signs of nervousness and no slips. Their stripped to the bones performance was totally appropriate. I can genuinely say that
The XX
were the only thing i saw at
Reading Festival
that truly blew me away. They stood out in more ways than i could have imagined.
The eponymous debut is out now (
CD
-
VINYL
via
Amazon
).
The XX
-
Crystalised
(
MP3
) (taken from the album
'XX'
)